New Delhi: Solar Energy Corporation of India Limited (SECI), Ministry of New and Renewable Energy, Government of India has signed a Power Sale Agreement (PSA) with GRIDCO Odisha, Government of Odisha under which GRIDCO Odisha will purchase 600 MW of wind power from SECI under Tranche – XIII of ISTS (Inter State Transmission System) Connected Wind Power Projects Scheme.
Under the ISTS scheme of the Ministry of New & Renewable Energy, power generated from a state rich in renewable energy resources could be transmitted to states deficient in renewable energy resources.
The agreement between SECI and GRIDCO was signed in Bhubaneshwar today, June 9, 2023, in the presence of Additional Chief Secretary, Department of Energy, Government of Odisha, N. B. Dhal.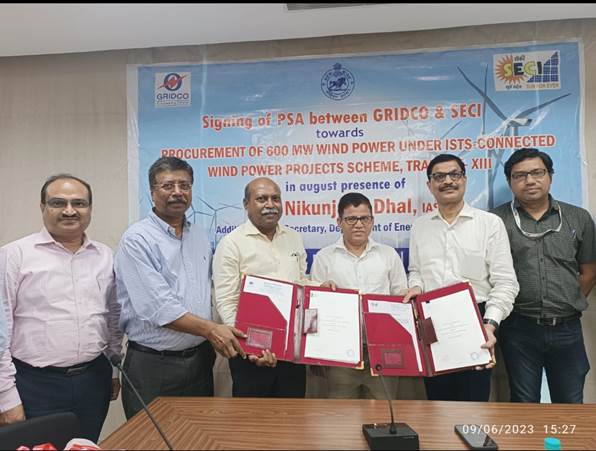 Odisha Electricity Regulatory Commission has already given in-principle approval for procurement of 600 MW wind power by GRIDCO. Power is scheduled to be commissioned within 24 months from the date of signing the Power Purchase Agreement (PPA) with Project Developers.
The aggregate capacity of 600 MW is likely to be installed by developers based in Gujarat, Karnataka and Maharashtra.
SECI is a Miniratna Category-I Central Public Sector Enterprise under the Union Ministry of New & Renewable Energy, incorporated in the year 2011. It is the primary implementing agency of the Ministry for Renewable Energy schemes and projects towards fulfilment of India's international commitments.
Till date, SECI has awarded Renewable Energy project capacity of over 58 GW. SECI is also active in setting up of projects through its own investments as well as for other public sector entitites as a Project Management Consultant (PMC). SECI enjoys an ICRA credit rating of AAA.
GRIDCO Limited is presently engaged in bulk purchase and bulk sale of power to the four Distribution Companies inside the State of Odisha and trading of surplus power through traders to promote exchange of power with neighbouring States in the country.